Major road network schemes
Major Road Network schemes are defined as road schemes valued at £20-£50 million which will be taken forward by the respective local authorities within Peninsula Transport with funding from the Department of Transport. Peninsula Transport has identified five schemes which it has put forward for the period 2020-2024 for funding. These are: A382 Drumbridges to Newton Abbot, A374/A386/A3064 Plymouth MRN Phase I, A39 Atlantic highway (Camelford Bypass), A39/A361 Roundswell to Bishop's Tawton (North Devon Link Road Phase 2) and A379 Exeter Outer Ring Road.
TheA374/A386/A3064 Plymouth MRN phase 1 has been given the green light to move ahead.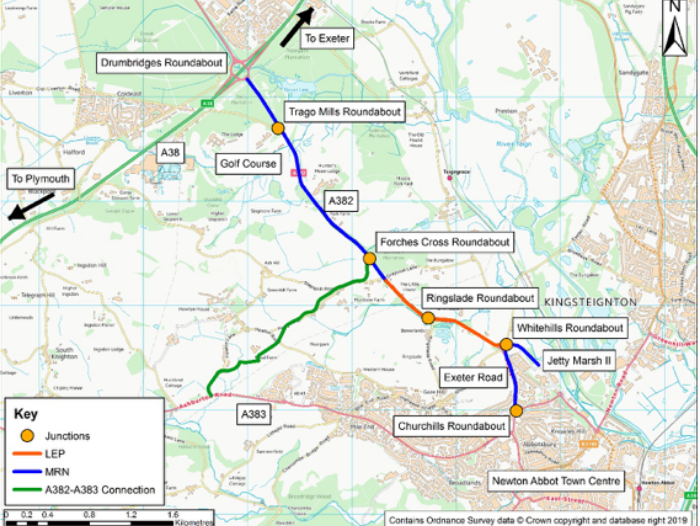 A382 Drumbridges to Newton Abbot
The A382 (18,000 AADT, 3% HGV) links Newton Abbot to the A38, Heathfield Industrial Estate and beyond. The road is sub-standard, has a high collision rate and there are no pedestrian or cycle facilities along its length. These issues are preventing planned development in the Newton Abbot growth area. Proposed improvements include: widening to dual carriageway, Trago roundabout to Drumbridges; realignment/widening to 10-metres, Trago roundabout to Forches Cross; improving junctions at Trago, Forches Cross and Whitehill Cross; construction of Jetty Marsh II; new pedestrian/cycle path from Drumbridges to Forches Cross and along Jetty Marsh II; widening of Exeter Road to 6-metres and shared pedestrian/cycle path.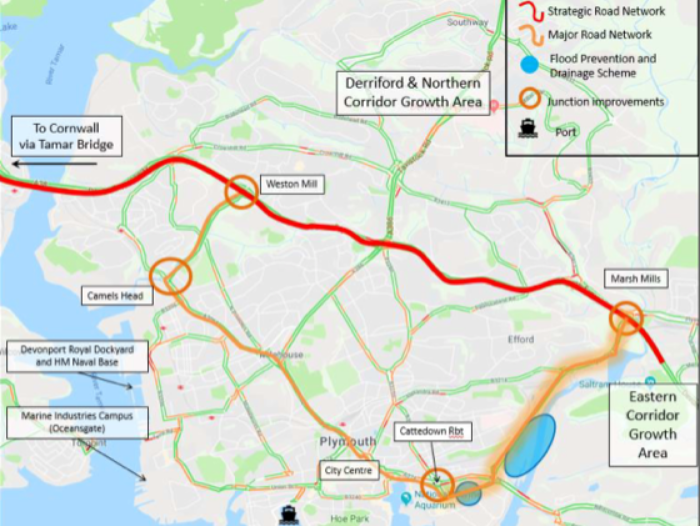 A374/A386/A3064 Plymouth MRN Phase 1
Plymouth's MRN Phase 1 Scheme will deliver targeted improvements to key junctions including the A38 / Marsh Mills and Weston Mill junctions, Cattedown Roundabout and the Camels Head junction, increasing road capacity and reducing delays. Localised road widening will be undertaken to facilitate traffic flow and remove pinch-points, complemented with highway asset reconstruction and improvements for non-motorised users incorporated.  
Flooding hotspots will be addressed with the implementation of the EA Arnolds Point flood defence works implemented. MRN functionality will increase through the removal of a disused rail bridge which limits the MRN as an Abnormal Load Route and as a diversion route for SRN traffic on the A38.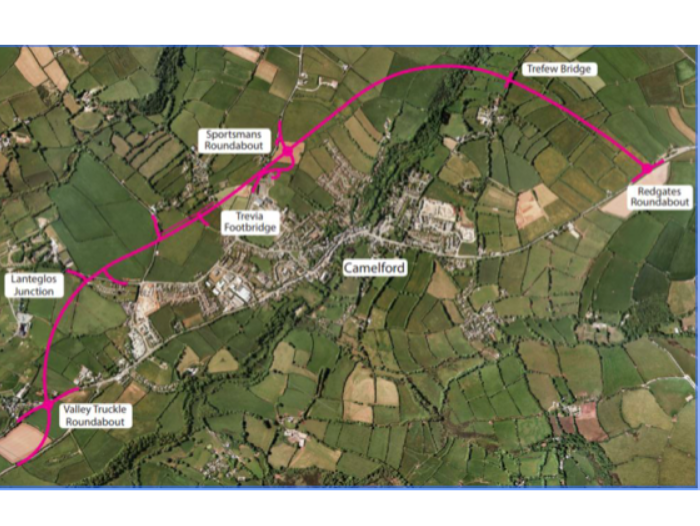 A39 Atlantic Highway (Camelford Bypass)
The A39 is the main route from north Cornwall to west Devon and through Camelford is congested resulting in delays, community severance and associated environmental impacts. Camelford is an Air Quality Management Area (AQMA) with a high percentage of HGV and agricultural vehicles.  
Poor connectivity impacts on the economy of Camelford and surrounding area, with the current route identified in the Local Plan as a key constraint to growth.  A single carriageway bypass of design speed 85kph will provide a theoretical capacity of 13,000 vehicles per day: sufficient capacity to cope with the current traffic flows (including seasonal uplifts) and the predicted increases to 2030.
Journey time reliability will be improved on A39 and congestion eased in town;

The scheme improves air quality in the Camelford AQMA

 

Provides improved access to tourism attractions (including Boscastle and Tintagel);

The route has previous planning permission & support from Town Council;

Route protected by Cornwall Council.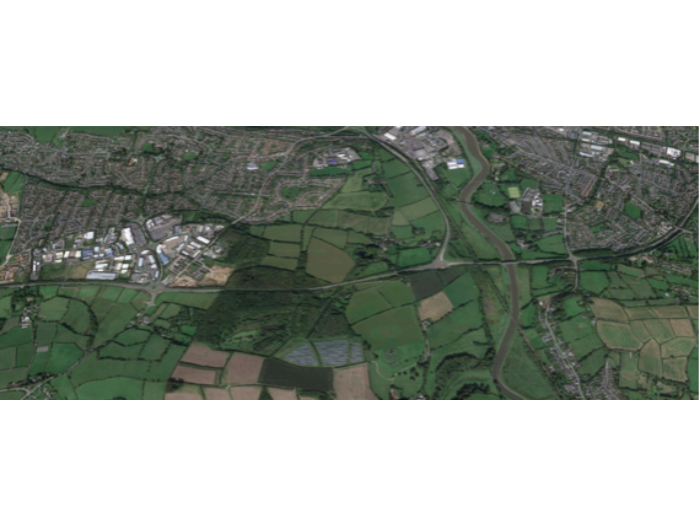 A39/A361 Roundswell to Bishop's Tawton (North Devon link road phase 2)
The North Devon Link Road (NDLR) is the main road connecting northern Devon and North Cornwall to the rest of the country. Around Barnstaple it is all single carriageway but carries 28,000 vehicles a day. This causes high levels of congestion and queuing in peak periods and the situation will be made worse by the 17,000 dwellings and 85Ha of employment proposed in the area in the next decade. 
Phase 1 improvements to the NDLR were approved for Large Local Majors funding in 2018 and this will improve all the junctions between South Molton and Bideford as well as additional overtaking sections between South Molton and Barnstaple. The benefits of the junction improvements will not be fully achieved unless the links connecting them are improved to carry the full capacity the junctions can accommodate.  This scheme will include widening of the road to two lanes in each direction between Roundswell Roundabout and Bishop's Tawton Roundabout. This section is 2.4km long and includes a new bridge over the railway branch line and River Taw. There is insufficient room to accommodate a dual carriageway standard road because of the houses on both sides so a WS2+2 road is proposed, with a solid white line down the middle and hard standing kerbs on either side. This will require the speed limit of the road to be reduced to 50mph and average speed cameras will be installed to enforce this.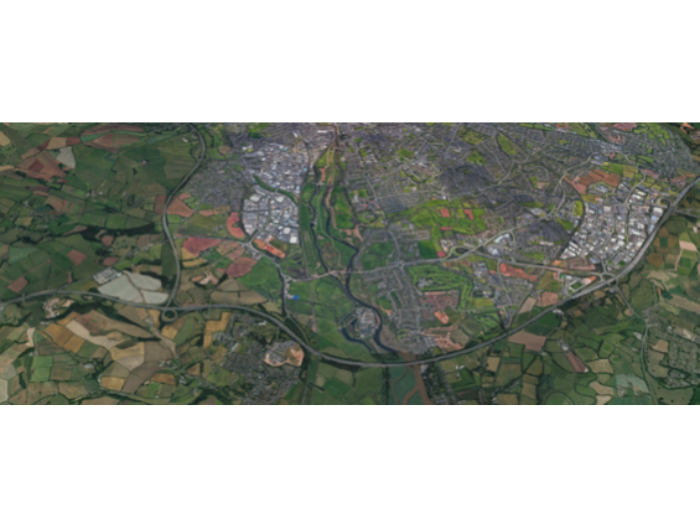 A379 Exeter outer ring road
The A379 is a key arterial corridor in Exeter, providing one of only 4 vehicular crossings of the River Exe. It provides resilience to the Strategic Road Network through its function as a diversionary route for the M5. It carries 33,000 two-way daily vehicles and links two of Exeter's major strategic housing and employment allocations: 2,500 dwellings and 5ha of employment at South West Exeter and 3,500 dwellings and 8ha of employment at Newcourt. 
The A379 has several structures crossing the River Exe. These structures are approaching the end of their serviceable life and require renewal within 10 years. Without access to significant external funding, these structural renewals will not be possible using current funding sources. Failure of the structures will cause significant disruption to the large volumes of daily users of this route, impacting the overall accessibility of Exeter.  
The A379 corridor serves as an important diversionary route for the Strategic Road Network in the event of an M5 closure. This scheme would enable abnormal loads to be accommodated along the route.